shawl progress
As members of my fan club may remember, I'm knitting the Fir Cone Square Shawl from Folk Shawls in some 1/14 cashmere from
ColourMartUK
in the colour "Everglades". (google will show you a couple of finished shawls) The most wonderful
Trillian42
made a spreadsheet for me so I could see how far through I am. So far I have been averaging about 8% a day, which is just right if I expect to have time to block this beastie.
The shawl starts as a simple square; stitches are picked up from around the outside and is knit in the round from there. It's finished with a short little edging.
This is the center fir cone pattern -
And about 20 rounds past picking up the stitches around the outside -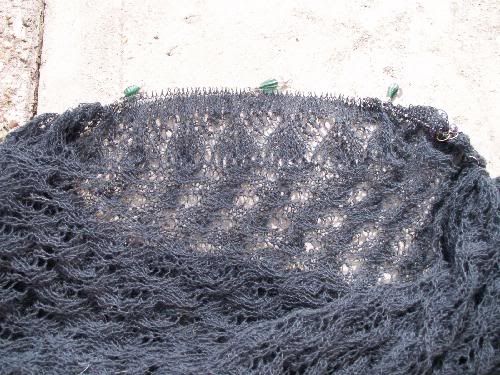 extreme close-up of the row of picked-up stitches, eyelet round, and inner border lace pattern 1
, with bonus
turtlegirlicious
stitch marker! Stitch markers every pattern repeat would be excessive, but I keep 4-5 every side just to keep myself on track.
Yarn notes - this yarn was bought on a cone, all oiled for machine knitting. It's not too troublesome to knit with, but a bit different. I have to keep fondling my washed swatch to remind myself what it will become. It's also single-ply, which accounts for some of the twisting shown in the pictures; I haven't knit with many single-ply laceweights before, so I'm not quite sure what I think about it. Stay tuned. By now I have over 700 stitches per round, so it'll be slow going and not much to blog. The next 40 rounds account for about 40% of the knitting - oy!