Little Baskets
Here is my progress on the Flower Basket shawl: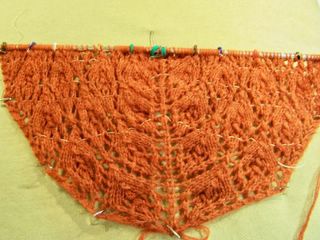 Flower basket

I'm done the ripping and screaming stage I seem to have to go through while learning the lace repeats. Note all the lifelines. It's not a hard pattern, but those YO's near the markers are easy to miss, and it took me a while to notice the pattern isn't exactly symmetrical on both sides.
It's now halfway through the 3rd repeat of the lower chart (out of a total of 7/8 repeats, depending when my yarn runs out). I think I'm going to make it.
Little Baskets: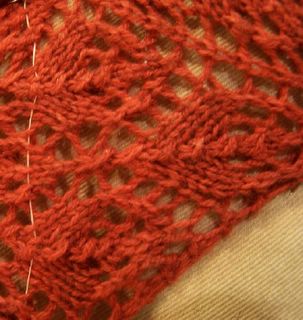 closeup of baskets

At the Torino Olympics, I love the American Snowboard team! I was so upset when Kelly Clark washed out! I think she could have scored better. She flew so high, she could have taken on any Flying Tomatoes. Her run isn't getting enough press, it was historical!