All is well so far... mostly
Well, 4 days of knitting has yielded 4.5" of my Ribbon X-back. I'm working at a good pace; I think I'll be done in the required time, but I don't feel like I have to spend every spare moment working on it in order to finish.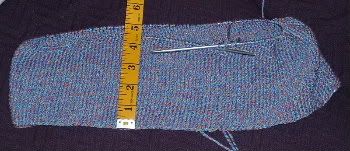 Back on round one or two, I apparently dropped a stitch, which meant that my seed stitch wasn't lining up. I declared it to be a design feature and just worked like that for about 3"--it ended up with two stitches of garter stitch at the join to get the stitch pattern corrected for the next round. I went ahead and added an increased stitch in today to even everything back up. It's very bright, colorful yarn, so the stitch pattern isn't super-visible... I think I can get away with it with minimal noticeability. If I decide later that it looks completely weird, I may try to pull the stitch up from the bottom with a crochet hook.
I also don't have enough yarn to finish the whole thing in one color (which is actually ok, because I had a feeling it might happen), so I'll need to pick another yarn to use as a stripe, or possibly for the whole upper part.
Despite the little setbacks, it's going really well. Go Team Knittyboard!